REMOTE VIDEO SURVEILLANCE – SECURITY (CCTV) MONITORING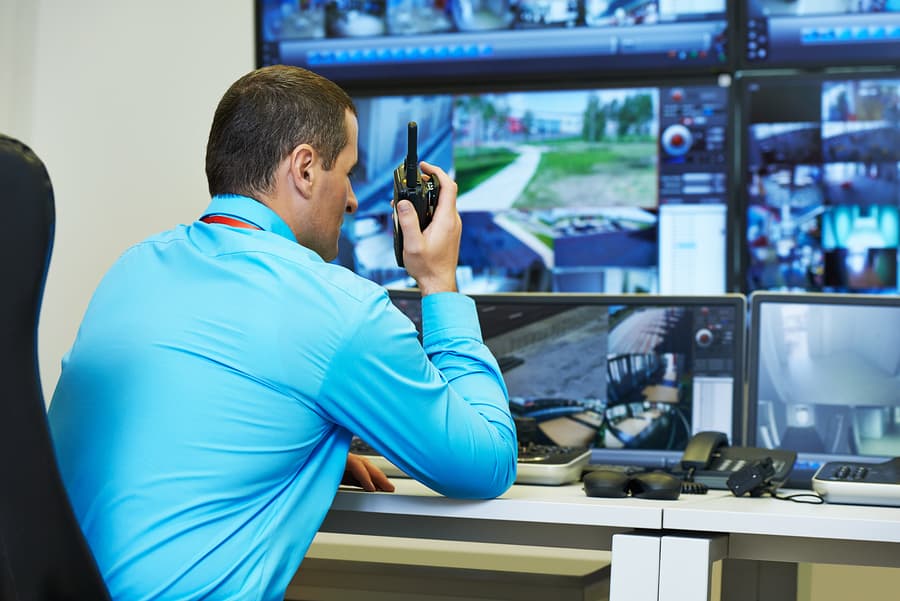 Night Hawk Remote Video Surveillance & CCTV Monitoring in Boca Raton, Florida offers a real-time remote video camera surveillance monitoring (CCTV) service for business owners all over the world. Night Hawk Remote Video Monitoring uses only the latest remote video camera surveillance technology to monitor remote surveillance cameras during specified times that are tailored to meet the customer's needs. This process allows for maximum effectiveness in catching the bad guys in the act. Night Hawk Remote Surveillance Monitoring then notifies the authorities with information that helps stop the crime while in progress and oftentimes before the crime even happens. By using remote video surveillance camera systems designed to capture suspicious activity such as theft and vandalism we can stay ahead of the crime in progress, instead of giving them a running start.
Remote video surveillance camera monitoring takes place in real-time by offering reliable video surveillance making it an economical solution in the battle against crime and vandalism. Night Hawk Monitoring actively monitors your security cameras which gives us the edge in stopping criminal activity. We never rely on motion sensors or door contacts being triggered. Instead, we grab the bull by the horns and react by alerting the proper authorities right away! Taking a proactive approach keeps the bad guys from getting away.
Real-Time Video Protection Offers:
Real-Time Protection against Crime and Vandalism
Remote video surveillance security cameras monitoring has been proven to be an effective and proactive solution against crime and vandalism. Our security monitoring surveillance specialists alert the authorities as soon as a trespasser enters your property, apprehending them in the process.
Flexible 24/7 Remote Video Surveillance Monitoring
We're always on duty! Whether you need Night Hawk Remote Surveillance Monitoring to watch your property at night, on the weekends, or every and all day, we've got you covered. We never sleep, meaning you can rest easy knowing your property is secure.
On and Off-site DVR Recording
Night Hawk Monitoring can set up on-site and off-site DVRs so you can review events at your convenience. We even have the capability of recording your video cameras at our secure location for extra protection. This is crucial for a property that is considered high-risk. Many times during a crime the security camera recording device DVR or NVR is stolen or damaged.
Daily, Weekly, and Monthly Reports
Need to keep track of deliveries, employees, or suspicious activity. Night Hawk Surveillance Monitoring will generate a report with the information you want. We use specific data-sharing software that can send reports instantly. This gives the information that you need, on your desk and in your e-mail when it happens.
Huge Savings Over Security Guards
Security guards can be expensive liabilities, especially when they are not doing what they are supposed to. Our virtual security guards can watch many areas of your property simultaneously. This would take multiple security guards to perform the same task.
Surveillance cameras stream video in real time and can be installed virtually anywhere. With multiple security cameras, it's possible to monitor every inch of your property on one computer monitor. With the proper setup, criminals will have no place to run or hide. Using real-time CCTV systems allow for live visual confirmation, making false alarms a thing of the past. Night Hawk CCTV Monitoring has many strong relationships with local authorities around the country. This bond is only strengthened by aiding police in the apprehension of suspects time and time again. Once arrested, most criminals will not come back, but if they do Night Hawk Remote CCTV Monitoring will be waiting.
Night Hawk CCTV Monitoring can generate a full report that can be e-mailed or hosted on our secure server, in case of indecent or by request. These reports can include time-stamped snapshots, videos, and other valuable information that will be concrete proof of your concerns. Our reports are great for property & business owners, which allow them to see any activity happening on their property while they're not there. Video reports can also aid in the conviction of criminal activity and even false injury claims by employees or customers.
Don't rely on traditional alarms or event-based security cameras to protect your property. Night Hawk  Monitoring can watch surveillance cameras in real time. Our professional staff is trained to monitor multiple security cameras on your property at once. This allows our operators to immediately contact the authorities in the event of a break-in. We then provide them with important information about the suspect(s), such as location, physical description, and other useful information. If preferred, Night Hawk Surveillance can prevent crimes from happening in the first place by issuing auditory warnings to trespassers through speakers.
Why Choose Night Hawk Monitoring?
Night Hawk Monitoring's live video monitoring service can save you money. Security guards are expensive and have been caught sleeping on the job. We can protect your investment from costly repairs due to break-ins or having to replace stolen equipment. Having a 3rd eye can also minimize damage caused by fire, water, or even wild animals. Alerting the correct first responders to the scene can make the difference from a complete loss. Night Hawk Monitoring is the best solution to protecting your property by using only the latest in surveillance and security camera technology to keep you protected. Call us toll-free at (844) 255-5903 or simply contact us here online.